At the Annual General Meeting of Shareholders, which took place on April 23, 2019, Khang Minh Brick Company officially took on a new name – Khang Minh Group Joint Stock Company with a change in its operating model and core products.
Accordingly, Khang Minh will operate under the model of a parent company – a subsidiary, with the name Khang Minh Group Joint Stock Company (stock code GKM). This is an important step in brand orientation, facilitating the connection process with partners and customers; expanding the scope of business activities to include both domestic and international markets when trading and doing business.
In particular, at this Congress, the decision to transform the corporate structure was emphasized. With a new name and new structure, Khang Minh aims to become a multi-industry company, developing a strategic product line Quartz Conslab. Sharing about this change, Mr. Dang Viet Le – Chairman of Khang Minh Group said: "Quartz Conslab is a potential product with all the criteria to help Khang Minh quickly achieve its goal of becoming an international enterprise. export vision. This is a strategic product for Khang Minh's development and outbreak in the coming period."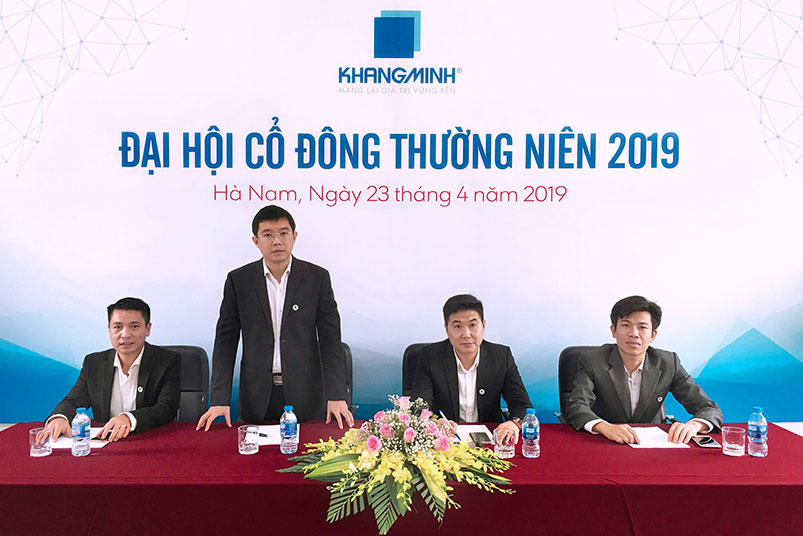 The 2019 Khang Minh Shareholders' Meeting caming to important decisions in the development strategy of the new phase.
Along with that, Administrative Council and Board of Directors presented the 2019 business and operation plan with the strategic product Quartz Conslab. This year, the Company will maintain the production of aggregate cement bricks, while continuing to invest in machinery and equipment for a new project – Conslab Thach Anh. The revenue in 2019 is expected to reach 200 billion, of which the revenue from Conslab Thach Anh is 80 billion, of which the main goal is to serve the domestic market and step by step towards export, bringing opportunities for commercial development. both in depth and breadth.
In March 2019, Conslab Thach Anh was officially launched in the domestic market and received positive feedback from experts, commercial partners as well as consumers. In particular, the product line Conslab Quartz Gemstone, using natural gemstones such as Yellow Quartz, Amethyst, Black Quartz, Agate, etc., is considered a breakthrough in the high-end paving stone market. Currently, the factory has completed the final stages for the first commercial shipment in May 2019.