On April 18, 2020, the Annual General Meeting of Shareholders in 2020 of Khang Minh Group (stock code GKM) was held at the headquarters of Chau Son Industrial Park, Phu Ly city, Ha Nam.
The General Meeting approved the Report of the Administrative Council and Board of Directors on the situation of business results in 2019 along with the objectives, tasks, and business plans in 2020. At the end of 2019, investment activities in phase 1. for Khang Minh Quartz Conslab Factory basically completed. The new factory and production line were put into operation in the fourth quarter. Quartz Conslab products were present in the market in all 3 regions of North – Central – South and initially recorded revenue with many signed contracts. Along with that, Khang Minh Brick's products maintain their leading position, being the choice of many large investors and construction contractors such as Coteccons, Ecoba, Delta…, distributed to many projects with large scale.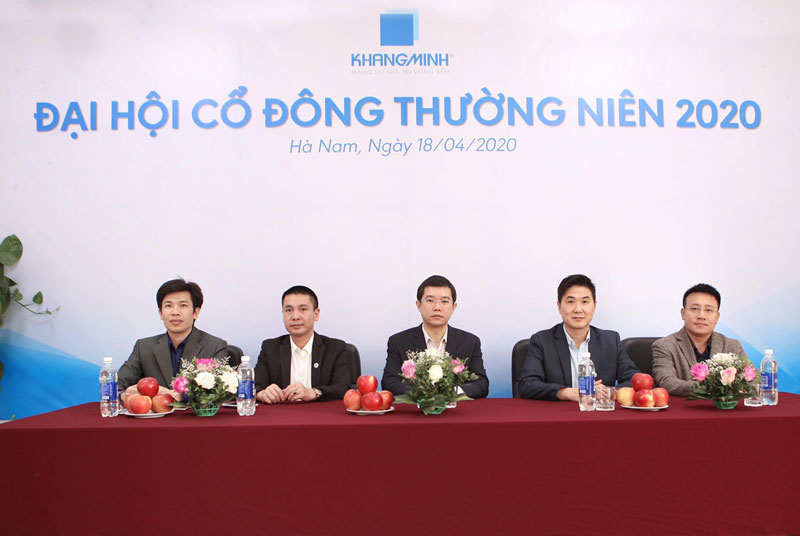 According to the business plan in 2020, Khang Minh Group sets a target of increasing 319.6% profit after tax compared to 2019. The strategic product line continues to be Conslab Thach Anh – a useful solution to replace natural stone. However, with many diverse applications in the project such as: stairs, flooring, interior products: wall tiles, dining tables, tea tables, etc. Development activities of distribution channels, agents, contractors operating in the construction industry. The paving stone industry nationwide continues to be deployed and promoted with the focus on Hanoi, Da Nang and Ho Chi Minh City. Ho Chi Minh. Along with that, Khang Minh Group has gradually promoted export activities, focusing on a number of key markets such as Australia, the US, Italy, etc. Khang Minh Conslab Thach Anh product.
With the product of aggregate cement-unburnt bricks, Khang Minh Group advocates the optimal exploitation of factory 1, promoting innovative activities to optimize the process, continue to provide quality products, useful for projects.